维也纳玻璃与石头琴音色库(VSL Horizon Series Glass And Stones GIGA)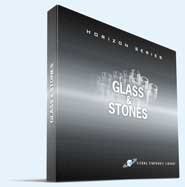 这是每一位音乐人应该拥有的珍藏,包括4.5G珍贵稀有、声音独特的乐器音色,象玻璃口琴、verrophone、音乐玻璃,以及世界上音域最广的、价值连城的石头琴。这些稀有的乐器瑰宝会给你的音乐带来意想不到亮点。
A must-have for every composer and sound designer! This unique collection contains 4.5 GB of previously undiscovered sounds from rare, fragile instruments like a glass harmonica, verrophone, and musical glasses, as well as the world's deepest lithophone, a priceless instrument spanning 5 octaves! All of these little known instruments are now available in a truly exceptional sample library for the first time ever!
Glass
The glass harmonica was well known and frequently utilized in Mozart's time. Today, there are roughly 10 professional players in the world who are able to make this invaluable instrument yield its characteristic ethereal, crystalline and delicate sound!
Another exquisite rarity is the verrophone, which was invented just 20 years ago. Its lingering, atmospheric sound is highly esteemed by modern composers because of its extraordinary intensity - an "Eldorado" for sound designers!
Everyone knows the mystical sound that unfolds when musical glasses are being rubbed. However, up to now it was scarcely available as a well-tuned instrument - and scarcer even in a chromatic range from G3 to G6!
Stones
For the first time ever, the round sound characteristic of stone is available in sampled form: with its singular tone range of nearly 5 octaves, this one-of-a-kind lithophone provides the deepest tones "made of stone"! This instrument is the only available lithophone built like a marimba and equipped with resonators, offering enormous musical possibilities from extremely supple, full, and dark deep tones up to the hard and bright high notes
此盘所含音色列表:
Glass Harmonica
ARTICULATION EDITION DESCRIPTION SAMPLES
01 GLASS_HARMONICA HORIZON Finger play: portato and sustained notes, as well as half tone trills. 190
02 GLASS_HARM_Mallet HORIZON Mallet strokes: normal and secco single notes in two variations, and glissandos. Playing the glass harmonica with mallets has to be counted among "effects" rather than normal pitched play. Especially in the lower registers, overtones become very prominent 197
Verrophone
ARTICULATION EDITION DESCRIPTION SAMPLES
03 VERROPHONE HORIZON Finger play: staccato and portato (2 variations), sustained notes, tremolos, and half tone trills. 478
04 VERROPHONE_Mallet HORIZON Mallet strokes: normal and secco single notes in two variations, chromatic trills, and glissandos. 264
Musical glasses
ARTICULATION EDITION DESCRIPTION SAMPLES
05 MUSICAL_GLASSES HORIZON Staccato (2 variations), portato, sustained notes, tremolos, and half tone trills. 180
Lithophone
ARTICULATION EDITION DESCRIPTION SAMPLES
06 LITHOPHONE_Mallet-1 HORIZON Soft mallets: single notes, normal and muted, tremolos, and chord tremolos; hard mallets, single notes; sul ponticello, normal and mute; and glissandos. 1440
07 LITHOPHONE_Mallet-2 HORIZON Soft mallets: low range, single notes, normal and muted, and chord tremolos; medium mallets: low range, single notes, normal and muted; and hard mallets, high range, normal and mute, and chord tremolos. 694
08 LITHOPHONE_FX HORIZON Various effects: single notes, played with the fingers, fingernails, stones, a needle, bowed, and with "shattering" tremolo-like sounds. 860
支持VSTI的软件都可以使用,比如FL Studio或者Cakewalk
维也纳玻璃与石头琴音色库(VSL Horizon Series Glass And Stones GIGA)
0 0